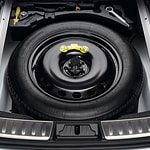 Every vehicle we sell at Henry Curtis Ford comes with a spare tire. We want our customers to feel confident and safe when on the road. Did you know that all spare tires aren't the same? There are two main types. Here's what you should know about the difference between a compact temporary spare and a regular spare tire.
As the name implies, compact temporary spare tires are best for smaller cars and aren't meant to be used long-term. You should seek a service station to replace this type of spare as soon as you're able. Also, you'll want to drive a bit slower than usual while using this kind of spare.
A full-size spare tire, on the other hand, is more durable. It's also much larger. That's why you'll find these in trucks and SUVs. There's no need to change your driving habits with a full-size spare.