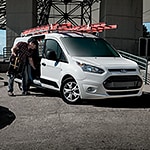 The Ford Transit Connect here at Henry Curtis Ford is the company's top-of-the-line van that offers enhanced levels of comfort and convenience. In addition to its cargo-hauling and heavy lifting capabilities, this vehicle has been thoughtfully designed with the driver and passengers' comfort in mind.
The Ford Transit Connect's adjustable steering column makes for an exhilarating driving experience in Petaluma, CA. According to a driver's height and preferred sitting position, they can select the most suitable position. One can move the entire column in any direction to suit his or her needs. Ford gearheads love these flexibility and customization options.
The Ford Transit Connect's push-to-start button has made starting the vehicle a breeze. Using this feature, you can start the engine without having to take the fob key out of your pocket or bag. The Ford Transit Connect's restricted, active, and Sports packages all provide this feature as standard. Enjoy the additional cabin storage space for little items like drinks and luggage.